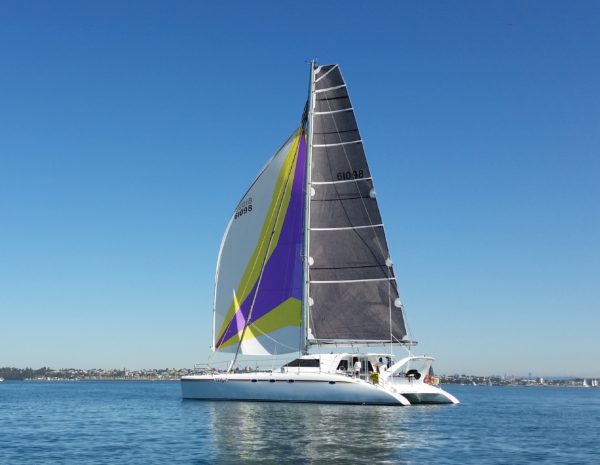 Photo Source: Ian Cooper
Nicky C is a Schionning Cosmos 1430 Sailing Catamaran, designed and built in Australia as a performance – oriented cruising vessel. She is comfortably appointed with 3QS cabins, two toilets and 3 showers. She has full head-room throughout and is fully equipped with state of the art safety, communication and navigation equipment. A recent lithium battery and solar upgrade allows us to run the microwave, water heater, kettle, air conditioning and water maker off the batteries without the need for a generator.
Nicky C regularly competes in WAGS races on Moreton Bay and some of the MYCQ races, Mooloolaba weekend is a favourite, but the luxurious appointments that make her great for cruising limit her racing performance compared to some of the other Schionnings on the bay. On the other hand she has more than proven her ocean-crossing abilities. She has cruised as far afield as Chesterfield Reef in the North, The Loyalty Island Group and Lord Howe Island to the East and a circumnavigation of Tasmania in the south. We aim to take her even further afield in the years ahead.
Other articles: